Free School Meals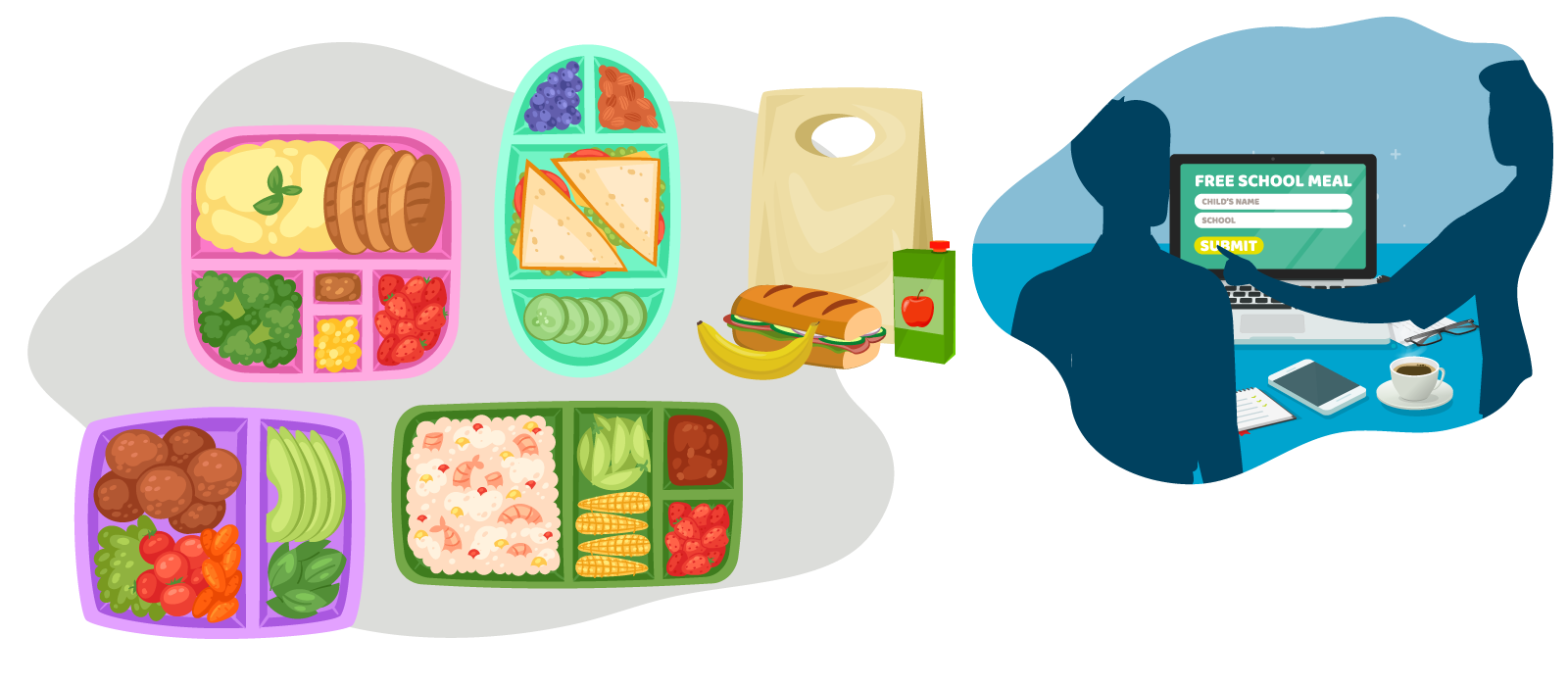 It is good to apply for free school meals because it also means your child's school will get extra money to support your child's learning. This is called Pupil Premium funding. Schools sometimes use the extra money to help parents with the cost of uniforms, school trips, and other activities.
Even if your child does not like the school dinners it is still good to apply so the school can give this extra support to your child.
School dinners can be a good way for your child to have a healthy lunch. Lots of children eat things at school that they refuse to eat at home because they see other children tucking in!
Your child can take a packed lunch to school whenever they want to. They don't have to have school dinners even if they get free school meals.
School dinners may have to be ordered online. You choose what you want them to have from the menu. Most schools use a website called Parent Pay. The school office will be happy to help you with it.
Children from Reception up to Year 2 at Primary School:
Every child gets free school meals if they're in:
Reception class (age 4 to 5)
Year 1 (age 5 to 6)
Year 2 (age 6 to 7)
Older Children in Year 3 to Year 11
You can check if you are able to get Free School Meals online or calling the admissions and transport team, all you will need is your National Insurance Number. If you don't have your National Insurance Number you can still call the Admissions team and ask them to help you get your National insurance number.
If you get benefits (although it depends on what benefits), your child might carry on getting free school meals after Year 2.
It doesn't happen automatically. You have to apply online or ask the school office to help you apply. Scroll down for further information.
Even if you come off benefits, your child will carry on getting free school meals until they are at the end of Primary school or the end of Secondary school.
Your child can only have Free School Meals if they go to school, if they home educate then they cannot get Free School Meals.
How do I apply for free school meals?
Free School Meals applications are done by East Sussex County Council in the Admissions and Transport Team.
you can apply online on the East Sussex County Council using the Parent Portal or ask the school office to help you.
Sometimes the school has its own form for Free School Meals but this is very rare.
Schools are always happy to help parents to register for free school meals. (remember it gets the school money too)
You can call East Sussex County Council's Admissions and Transport Team for more information Link to Contacts Page, Admissions and Transport, or 'on 0300 330 9472'.
Add website link and contat email